16 June 2018 5:00 pm
Summer by the River: Rhubarb Theatre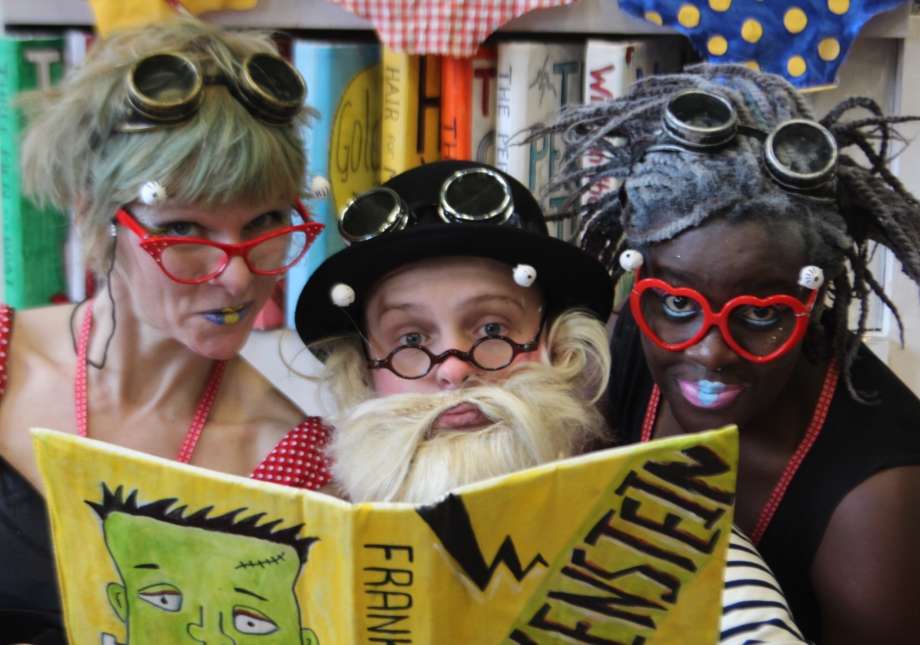 Bookworms
Wriggling their way in and out of trouble, The Bookworms pop-up to bring their stories to life!
With a rickety handcart library and some novel ideas, surprises leap off the page wherever they roam. Join our funny guides as they worm their way into twisty and fantastic adventures through imaginative worlds.
The Case of the Curious Suitcase
At a small rural train station three people arrive separately on the platform. They are waiting for the next train and strangely, they all have the same suitcase…
Potty old porters, waitresses serving the world's worst sandwiches and the never ending lost and found department are only the start of the adventure.
As time tick-tocks onwards, the old Tannoy announces the train is delayed, and the accidental companions experience increasingly unusual events. Where is the train? Will it arrive? Who knows what might happen next?
As suitcases get muddled, we find ourselves immersed in a quest to discover more about who the three passengers might be and what they are up to. The Case of the Curious Suitcase is a show bursting with fun and visual fantasy, waiting for a train will never be the same!
Watch out too for The Good Knights.
These brave and dashing heroes-on-horseback will be roaming The Scoop and are there to save the day, whether you liketh it or not.
Armed with their trusty dusters, litter pickers and shaketh-&-vac, our courteous gents are ready to please and their quest is to help you! These knights in 'polished' armour are here to help any unsuspecting passers-by, but with so many good deeds to be done, one might get a little sleepy. ZzZzZz – Good night, sir knight.