09 June 2018 2:00 pm
Summer by the River: La Clave Festival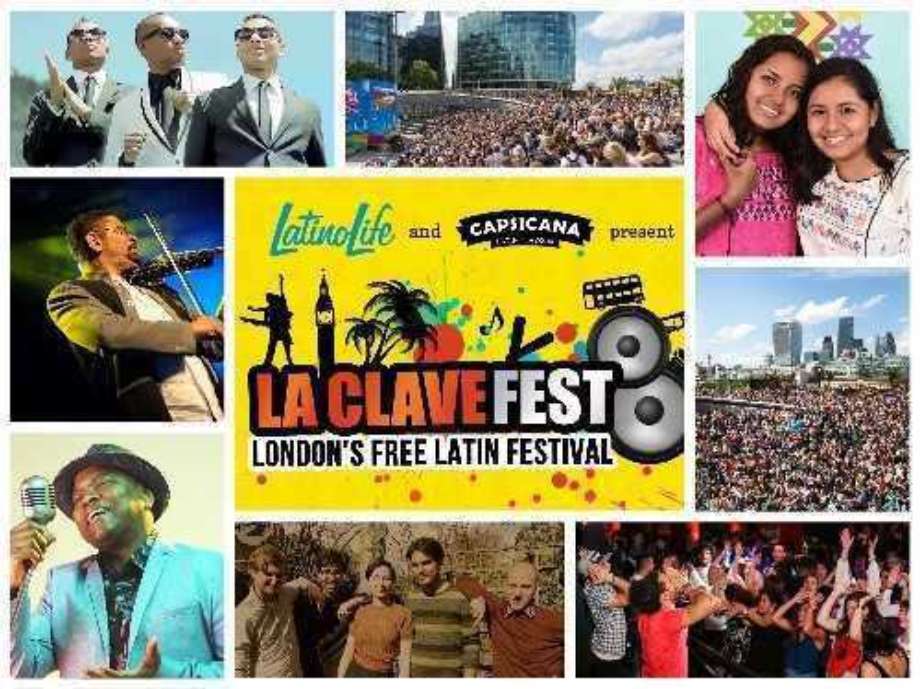 London's FREE Latin festival celebrating the best Latin music and dance is back, bigger and better than ever. From 1pm till 10pm international bands join the UK's plethora of Latin talent, to take you on a journey through Latin Jazz, Fusion, Folk, Latin Funk, Boleros, Samba and Latin Hip-Hop, culminating in a full-on Salsa band and the latest Reggaeton hits via the UK's best Latin DJs. The music will be accompanied by dance shows and, meanwhile, in the adjacent Hays Galleria, free dance classes are available all day.
Camilo Menjura and the LOL Choir (Folk/Choral – Colombia)
Vocalist and choir master extraordinaire performs Latin American folk songs with his Landscapes Of Latin-America (LOL) Choir. 1pm
Haze Samba (Samba – Brazil)
The 35 member children's Samba bloco that caused a storm last year. with drummers aged 8-14. 2pm
Percussion maestro and bandleader Ernesto Marichales reshapes Venezuelan traditional folk with London electronica to mesmerising results. 3pm
The Mexican teenage sensations who, with 1.3 million strikes on their current single and #1 in Spotify's Bolero Pop Playlist, lead Mexico's new Bolero generation. 4pm
La Raza

LUKAS winning Urban Act 2017, Mike Kalle, leads London's finest Latin Hip Hop outfits to represent the new sound of Latin-London. 5pm

Nazari Sound – Latin Hip Hop/Jazz/Salsa - Colombia
These three brothers from Bogotá - Ces, Juán & Nené - whose fusion of Jazz, Blues, Funk, Folklore, Salsa & R&B is causing waves on the Latin Hip Hop scene. 6pm
Omar Puente Quintent - (Jazz Funk – Cuba)
One of the world's most respected Jazz violinists, charismatic bandleader, and LUKAS winner 2017 for Jazz act, Omar's unique and energetic Jazz Funk is reminiscent of Cuba's legendary Irakere. 7pm.
Elpidio & Su Alegria Latina (Salsa – Colombia)
An infectious 10 piece orchestra bringing together London's finest musicians from Cuba, Colombia, Venezuela and Ecuador. 8pm
DJ Jose Luis and friends
With this Collective of the UK's best- loved Latin DJs, you'll be guaranteed the best Salsa, Bachata, Merengue and Reggaeton, including, the huge Latin hits that have been dominating the global charts throughout the last year. 9pm
DANCE, DRUMMING and DJs (between music acts)
With their infectious high-energy fun, these dance animators supreme from Venezuela and Colombia combine fitness and dance around 'Salsa Choke' - a popular call-based Salsa dance created in the streets of Colombia .
Richard Marcel's Latin Dance X-Perience
The choreographer of choice for UK television and artists such as Madonna, George Michael, Take That and Kylie, will be choreographing his best dancers to wow the crowd.
Havana Londres
Known for their infectious energy, crazy rueda de casino, reggaetón vibes and legendary parties, Havana Londres will be bringing the sass that has shaken up the Cuban salsa scene in London.
In parallel to the entertainment on stage at the Scoop, Joe Davids of The Latin Collective offers a choice of 14 classes in Salsa, Bachata, Salsa Cubana, Reggaeton & Rueda, featuring the UKs Top Team of teachers.
Location: The Scoop