22 June 2019 8:00 pm
Summer by the River: Discovery Talent Takeover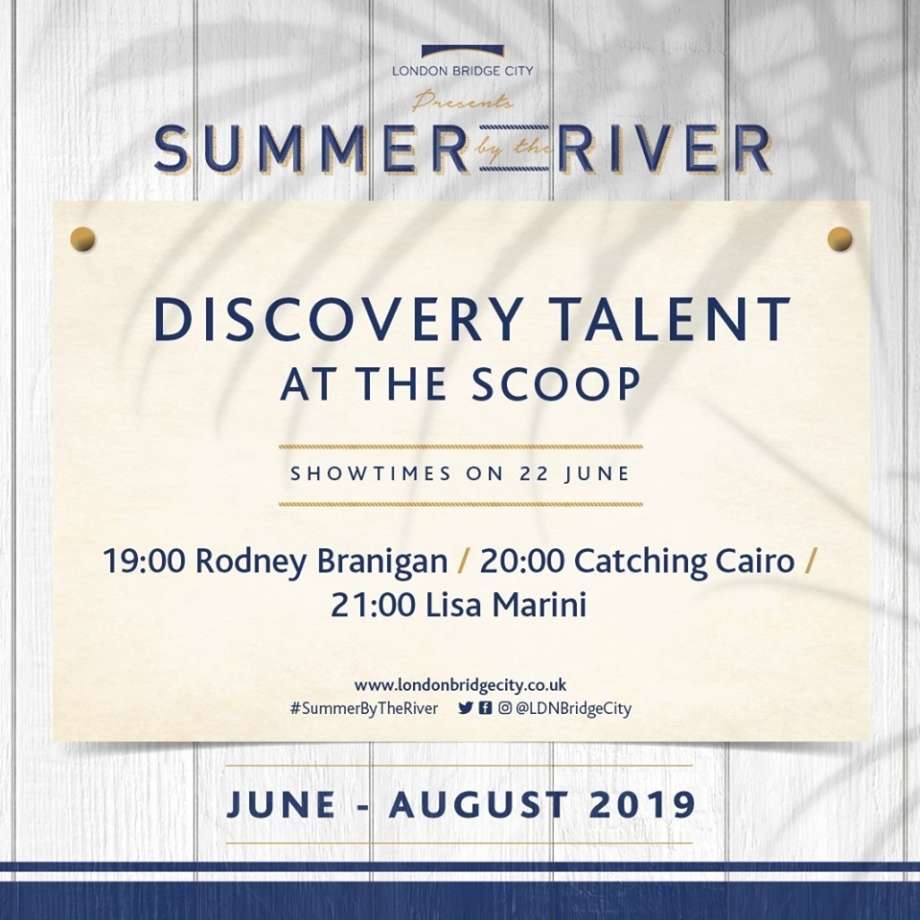 Catching Cairo 19:00

Catching Cairo descends from North London, introspective, diverse and an interestingly calming influence on her craft and self-described DreameR&B collection that she describes as "a subgenre that encapsulates elements of a stylistic, lyrical, contextual approach to music, to create my unique sound through using elements of R&B, Soul, bass and reggae".

"An accomplished songwriter in the dance music space now channelling her knack for lyrics & melody to create an introspective Soulful blend she calls 'DreameR&B' that's the kind of unique sound we live for!" - The Blues Project, 2018.
Lisa Marini 20:00

Beautifully crafted songs, infectious guitar picking and a defiant voice performed with some of London's finest young jazz players. Expect a delicious hybrid of Folk, roots and jazz.

"Lisa is spell-binding and mesmerising. Her self-penned songs are achingly melodic and artfully delivered. Her oeuvre is not soul but is totally soulful, it's not jazz but is cat-like cool, it is not country, but she has global appeal … a delight to the ears and eyes…a joy to the senses." Paul Latham | CEO, Live Nation


Rodney Branigan 21:00

"Seeing Rodney Branigan perform on stage is well worth a big tick box on any genuine music lovers bucket list"

Having first started performing in his home town of Amarillo, Texas in 2007, word quickly spread of his unique talent and Rodney soon found himself playing to ever increasing audiences from Los Angeles to Nashville.
Branigan's skillfully crafted songs and thought provoking lyrics blended with the apparent ease with which he plays two guitars at the same time has been described as "unbelievably clever and mesmerizing hypnotic".

In 2012 Rodney left the States to set up home in the UK where he has since brought his own brand of the finest genuinely authentic Americana to thousands of loyal British fans. After one such performance last summer when Michael Eavis had traveled to watch Rodney Branigan live on stage, he immediately called upon him to replace Paloma Faith after she was forced to pull out of the headline slot at the prestigious 'Glastonbury Extravaganza'.

PLEASE NOTE: All events are free - no tickets are required. Just turn up and enjoy yourself!