11 July 2019 – 31 August 2019
Summer by the River: The BBQ Club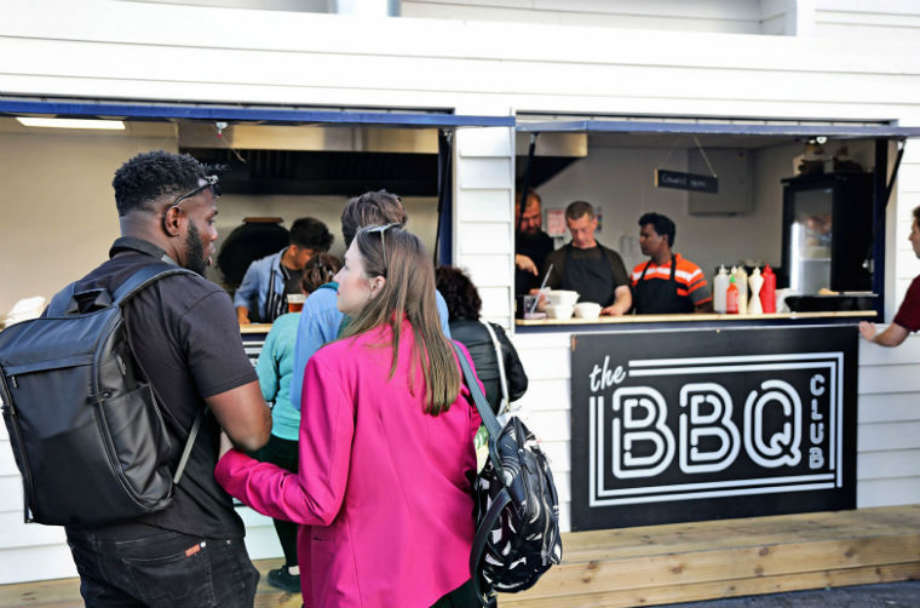 For booking and enquiries please contact: reservations@barbytheriver.com
Welcome to The BBQ Club at the Bar By The River.
This summer we will be popping up in The Scoop at More London for a summer of burgers and private parties!
Bringing you a showstopping, interactive BBQ menu using some time honoured, barbeque techniques to create a unique summer menu. The BBQ Club chefs will guide you through our new 6 course menu including whiskey smoked trout, duo of lamb cutlets & ribs, and sticky pineapple & coconut panna cotta.
Situated right by Tower Bridge, The BBQ Club offers the perfect place to soak up the summer vibes and there's even a giant screen showing the cricket and tennis this summer.
We have a range of packages and offerings to help create the ultimate summer party- from our interactive dining, to buffets and BBQ master classes, so let us help put the fire in to your party this summer!
How The BBQ Club works
The BBQ Club is a unique popup restaurant and interactive dining concept.
Here's a step by step to how it works!
1.Guests are seated on long, communal, custom made tables, each have a Big Green Egg BBQ set into them
2.Our team of chefs have prepared a 6 course menu, and elements from each course are cooked on the BBQ, at the table by the guests, under the watchful eyes of our chefs.
3.Guests have tongs, a timer, and expert supervision by our team as they are encouraged to baste, BBQ, and get involved in the finished product of their dish!
4.Guests can take in turns to become the tong master, nominate a chef from the group or simply sit back and let our team take control.
5.It's a great way for couples, groups or teams to enjoy good food together in a stunning environment in a fun and novel way like no other!
6.The chefs and the waiters are on hand to keep an eye on the BBQ's, give tips and answer questions (as well as keep drinks coming)
7.We look forward to seeing you this summer!
Sample Menu
£45 per person
'Posh London Flats' Homemade middle eastern flatbread, garlic & chive butter
'Caulifornication' Spiced roast baby cauliflower, red pepper puree, pickled red onion, pistachio, crumbled feta, fresh herbs
'Trout on the Rocks' Maple hot smoked sea tout, crème fraiche potato salad, fresh horseradish, caper and raisin vinaigrette
'Filled to the Bream' Fillet of bream, fennel ceviche, caramelised pink grapefruit, citrus dressing
'All Thai'd Up' Spiced ginger & lemongrass chicken thigh kebab, curried chick peas, lemon cured courgettes, mint, pickled chillies & crushed peanut, lemon verbena oil
'Wolf of Wool Street' Duo of lamb- lamb cutlet & lamb Ribs, salsa rojo, charred baby gem, crispy chorizo, chive oil
'Club Tropicana (Drinks Aren't Free!)' BBQ pineapple, coconut panna cotta, mango salsa, rum and lime syrup
For booking and enquiries please contact: reservations@barbytheriver.com