15 September 2018 – 16 September 2018 1:00 pm – 3:00 pm
Totally Thames: Sing for Water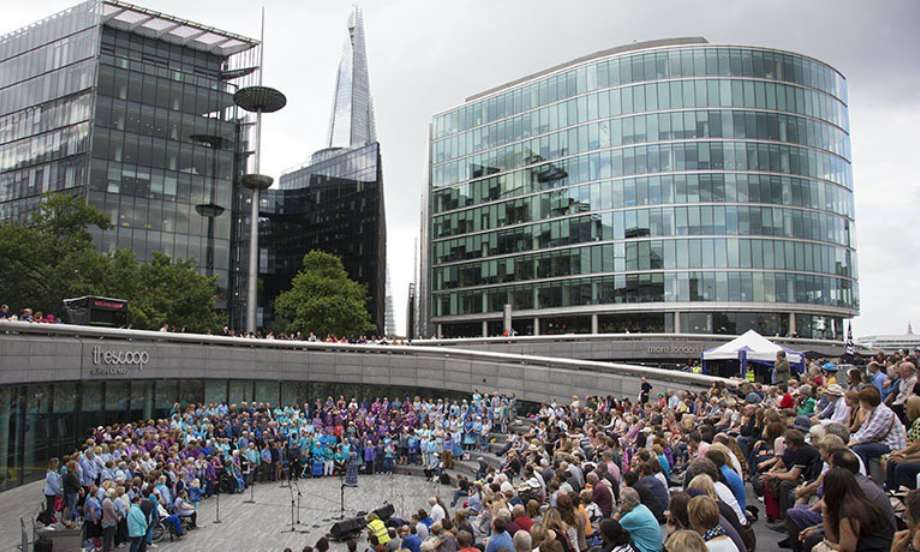 Hear the heart-warming sounds of over 400 primary school children singing together.This colossal choir of young voices will sing a beautiful repertoire of songs from around the world, exploring themes of the Thames and the issues facing children today.
Led by Richard Frostick, one of the UK's finest singing leaders, Artistic Director of the British Council's World Voice programme and founder of the Islington Music Centre, the children will join forces to delight audiences and perform a fantastic collection of songs at the Scoop. Young composer Hunter Cobblentz has created a contemporary response to Handel's Water Music to celebrate
the 300th anniversary.

Schools involved in this year's programme are The Gipsy Hill Federation, Kingswood Primary School, Elmwood Primary School, Paxton Primary School, Crawford Primary School, Fenstanton Primary School, Glenbrook Primary School, The Mayflower Federation, Phoenix Primary School and Ilderton Primary School.
Followed by an unmissable and uplifting outdoor choral performance. Led by the fantastic Katie Rose and Michael Harper over 500 singers from choirs across the country will come together for a powerful and evocative concert right beside the river Thames. The concert will also feature guest performances from the brilliant Mouthfall and the fabulous Una May.
Co-founded by the Thames Festival Trust and composer, singer and musical director Helen Chadwick in 2002, Sing for Water has raised 1 million pounds for WaterAid since it began.