29 July 2018 6:00 pm
Summer by the River: Faith I Branko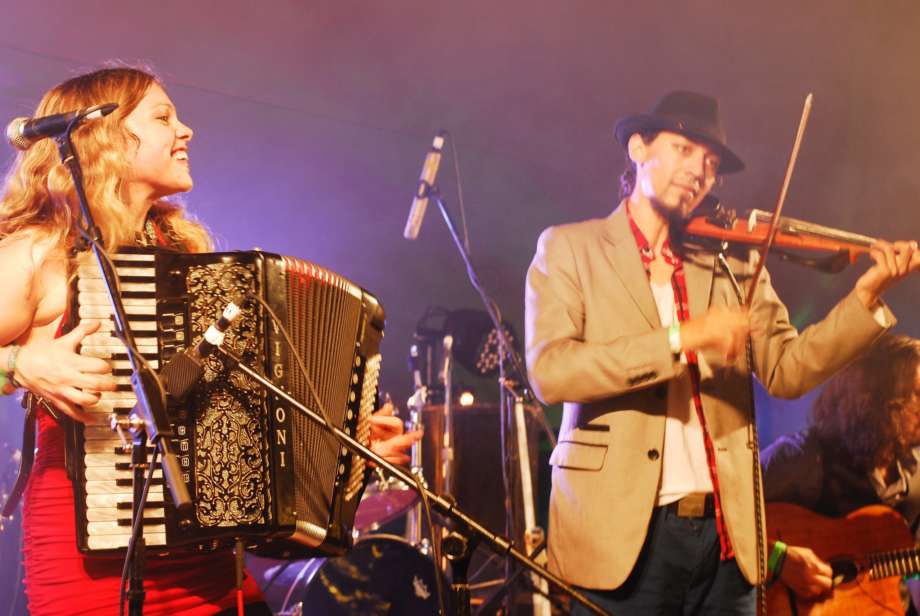 Faith I Branko will take you on a journey from melancholy Roma violin laments to storming 'kolos' and explorations into jazz improvisation, swing, Gypsy Rumba and Turkish and Indian influenced violin solos in a show which which is joyous, passionate, boisterous, fiery and spirited.
Predicted by FRoots Magazine to become 'one of the leading Roma Violinists of the century', and described by BBC Radio 3 as a violinist 'whom Paganini would be proud of', Branko Ristic is joined by Faith - a UK performer whose 'nimble accordion playing provides a beautiful bedrock' (The Guardian). From a foundation of 'Serbian-Roma' music, they have created a style that draws from both of their musical heritages and expresses their unique personal connection.
Branko is a sel-taught violinist for whom music became a way out of the extreme health, social and economic problems through which he lived in Serbia. Creating his own music which intuitively combines Jazz, Indian, Turkish and Classical music with his Roma traditions. The duo met in Branko's Serbian Roma village of Gornja Grabovica in 2009, and - with music as their only tool for communication - began a journey that would lead to the creation of their award-winning album 'Gypsy Lover', their marriage and their success in international touring and media.
"Musically, it's a delight" - The Guardian
"Moving, breath-taking and virtuosic" - Lopa Kothari, BBC Radio 3
"Quite remarkable musicians" - Stephen Fry, BBC World Service
"Great musicians with a fascinating stage presence" - Alex James, Blur
PLEASE NOTE: This event is FREE and is subject to first come first serve basis.