08 May 2017 – 23 June 2017 8:30 am – 5:00 pm
Three Wheels Coffee at No.1 London Bridge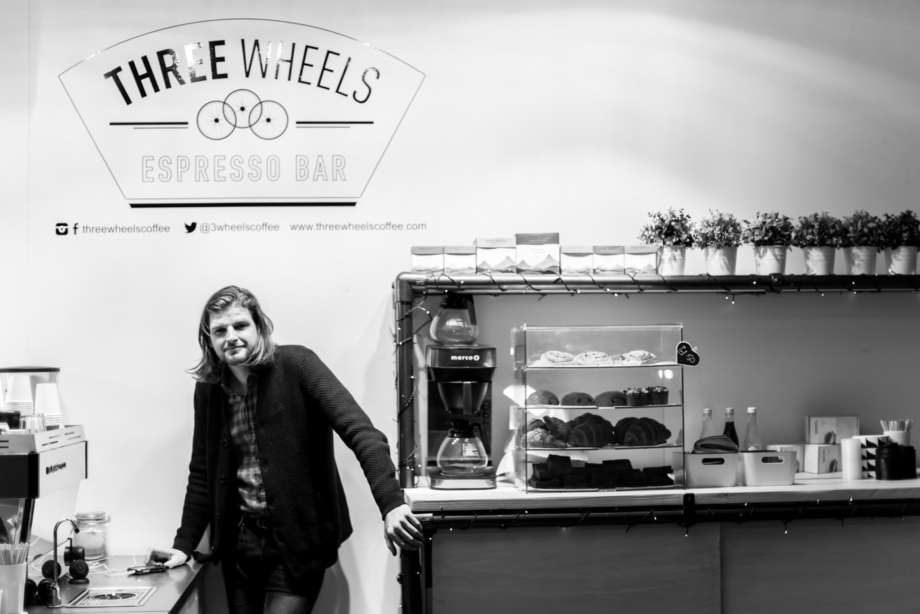 Three Wheels Coffee was born from two passions - Coffee & Bicycles.  Late in 2013 the idea for a cafe was hatched however the bank account wouldn't stretch for a traditional cafe, so Rory had to do it cheaper, easier and make it mobile.  After many late nights scouring eBay a deal was done, it took four months to turn a rusty old rickshaw frame into a mobile cafe, add in a four mile cycle Rory finally charged his first customer for a flat white at the Richmond Christmas Market and never looked back!
Many locations, events and pop-ups have come and gone but you can now find Three Wheels Coffee operating a permanent espresso bar in The Retail Arcade, London Bridge Station and have now customised an new Espresso Bar for the Business Lounge at No 1 London Bridge, opening on the 9th May. 
We will be using our trusty leaver machine called Thelma to knock out amazing espresso shots using Volcano Coffee Works 'Full Steam' Blend.  Directly sourced from the farms of Peru its has the tasting notes of ground almonds, stone fruits with a liquorice finish, when blended with whole milk you'll have a cup which will get you operating at full steam before you've finished it!
To kick things off for the first week your coffee is only going to cost £1.50 - no matter if you have an espresso or a latte thats all you'll pay!
Three Wheels Coffee will be pulling shots from Monday to Friday between the hours of 0730-1600 with a limited menu of the usual coffee's, fine teas, amazing hot chocolate, fresh morning pastries and sweet treats, we will look to extend our offering with different options so any as to what you would like to see stocked at the 'Espresso Bar'.